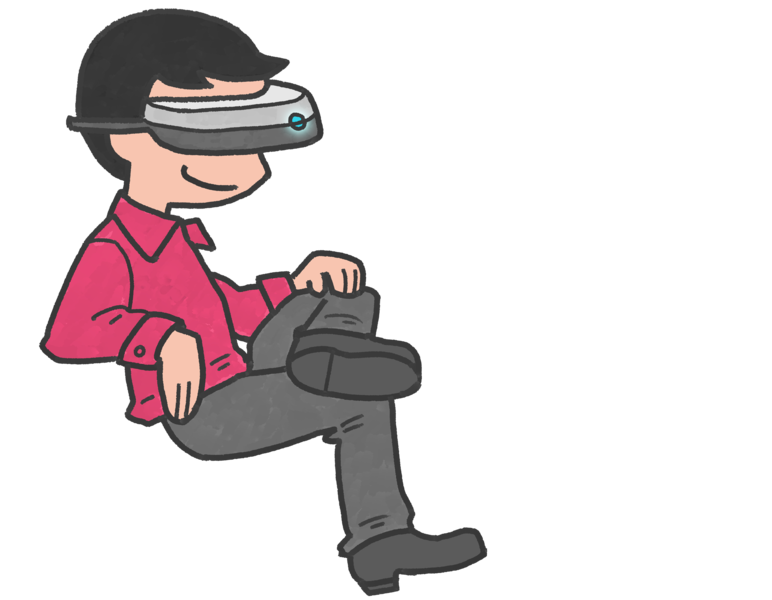 Everyone wants to feel good, and yet we grow more detached as a physical society further slipping into our digital lives more every day. Keeping track of our social profiles, our online identity, and managing our reputations in both our real lives and virtual now, more of us are trapped in the infinitely expanding web even more then ever as we reach close to 100% Internet use. Many of us go far beyond just using the Internet, we live in it, whether it is playing games, streaming our favorite shows, watching porn, or communicating with our far away friends and family. As we continue to virtualize everything, we look for ways to virtualize the rest of our existence as well.
Artificial intelligence and further integration with the brain
With the rapid advances of robotics and artificial intelligence, it seems that not only will AI soon take over and do most of our jobs better, but they may also become our preferred source of sex and porn entertainment. Perhaps someday all of us will be focused on having an orgasm in a private or public space in the metaverse. Don't let yourself believe this world isn't coming soon, just go watch some of the videos on youtube posted by Two Minute Papers, and you'll see that everyone is at risk of becoming redundant to the machines all at once, whether you are an artist, an accountant or a construction worker. Microsoft's OpenAI and Google's Deepmind are extremely advanced and the pace of their advancement is exponential.
Everyone depends on these companies, and so we feed them everything they need to take over the rest of our lives more everyday. I believe we are feeding the beast that will end humanity, and that we will allow it to happen willingly seeing no other greater path to follow. While most of us live fairly normal lives still, there are large groups of people working on the Technological singularity that will transform society very quickly just like we've seen with other technologies. Elon Musk goes as far as to say we will become extinct and require Universal basic income from the government to survive in public forums frequently, and he owns one of the companies working on a real version of the Matrix-like technology we need to progress even further, Neuralink, which is already proven to work in amazing ways (see demonstration from 2021). We are just a few years away from shocking changes to the structure of society.
Keep in mind that Elon Musk is working on all of the real solutions to transport our minds & bodies to other worlds at the same time, which is all focused on survival beyond our planet, beyond our limits, on Mars and beyond. Solar Energy, Advanced Batteries, Electric Vechicles, Rockets, Robots, Artificial Intelligence, Brain-Computer input/output devices, Huge drilling / boring machines and the hyperloop. He expands upon this further as he makes headway. If there is anyone on the planet Earth that will save us from resource exhaustion, I believe it will come from his grouping of ideas.
It's not my place to say if any of this saves our spirituality, but the fact is that spirituality for the last 40 years is in sharp decline as we reach towards the inevitable conclusions of the future and feed upon the beast more and more.
The future is already visualized in popular science fiction
Far before the age of mobile devices and cell phones, Gene Roddenberry, imagined a world where everyone had a personal communicator with them that could communicate great distances in Star Trek (1966) as well as many other new technologies. After hundreds of episodes continue to inspire future generations of scientists and explorers, we have grown up into a world where everyone now has such a communicator, with the advent of Apple's iPhone (2007) taking that vision to the mainstream like none before it. The advancements made in chips, operating systems and interfaces have allowed even our grandparents to participate in the Internet and enjoy it. The app markets they have developed have been able to change society. This was just the beginning, I believe there will come a day where even the iPhone is irrelevant and replaced by direct integration with our biology or replacement of our body, but there are many steps to get there.
At some point, I believe that our impulses will feel so connected to that metaverse reality that we can no longer determine the difference anymore between the real world and the virtual world just like movie, The Matrix (1999) where almost everyone is trapped in a virtual life, and later on the first episode of season 5 of Black Mirror on Netflix where 2 black men have sex in a virtual place as man and women avatars as part of the fictional Striking Vipers virtual reality fighting game. The game comes with a device that you place on your head to allow you to experience the game with all your senses. They could only feel secure about their sexuality in those avatars after failing to find the same spark in real life. They returned to their real married life without each other but would sometimes visit each other later to feel that passion again. Facebook believes in the metaverse future so much, they renamed their company to Meta in 2021 which shows their commitment to the Oculus Rift, that was now rebranded as Meta Quest, but hopefully they intend to go much further then just goggles someday and we can all explore other ways to play games feeling all our senses fully engaged in the world.
At that point, I think people will detach even more from their real lives and dive very deep into all of their desires. It may not necessarily fill them up, since our appetites are insatiable, but it's going to be pretty exciting nonetheless. Steven Spielberg was able to capture such a grand vision of this future in the movie, Ready Player One (2018). It created that sense that our regular lives were depressing and bleak compared to being inside that virtual world, and it's easy for the world to grow more like that when our jobs are lost and our sense of purpose becomes more clouded (pun intended).
James Cameron's Avatar (2009) was one of the highest grossing films of all time. In many ways, that kind of future is even more exciting. What if we could embody a squirrel, a bird, or the body of a being on another world? Everyone seems to think our problems on Earth are so important to solve, but I think people dreaming about Mars like Elon Musk with his company SpaceX are much more inspiring. If we not only go to Mars, but also learn how to transport our consciousness great distances like getting beamed up in Star Trek, then we can move into bodies that can survive harsh conditions, and we will become immortal. I think we don't understand what we'd do if we were immortal. Nearly all our actions currently are tied up in a race to survive and pleasure ourselves or those around us. There is a real chance that we will never have to die given a few more decades of advancement as we can imagine watching Altered Carbon on Netflix. What if we can retain our youthful sexuality in real bodies and still not die? That would be tremendous.
The entire porn industry as we know it will also go out of business when all of this happens. The future is very dangerous for women, since they may lose nearly all of their power over men in the process of us replacing them with digital avatars. The individual will have to think even deeper about the purpose of their lives, and what it means to be a man or a women in that world. A lot of our lives are tied up in that fleeting sense of love and passion. If everyone is able to quench their thirst for it, we may become more focused with the rest of our time and stop abusing each other, and focus on real progress in our lives. It seems like every major new technology is both a horrible weapon at the same time as the perfect solution for positive change. I think the biggest decision will be to decide if we retain our sexuality or not.
Erotic HFO Audio is not science fiction
Erotic audio and HFO Audio clips are like a preview into the future of sex. We get to imagine this beautiful women or man so close to us, worshipping us. Without any of the hesitations and awkwardness of a real girlfriend or boyfriend. They are there to satisfy all our desires however intimate they may be. Whether we want to relax and feel loved sensually or explore darker more perverse feelings, you can see that it is very fun, and often builds up your arousal much more then you can achieve on your own. The more realistic this experience becomes, it will feel like the best sex of your life is available to binge stream like that next Netflix episode. My what a world we are moving towards. What will we become? This transition, happening during our lives, will be the most significant in human history, as we approach the end of humanity and move into our digital realities more fully.
You can be ready for the future, and enjoy these virtual experiences today. With erotic audio, you can take your mind into a deeper state of imagination and arousal. Not merely limited by what you see on a screen, you can interact and manipulate the world in your mind. This often increases the overall experience. Maybe similar to letting your partner blindfold you in real life, and then allow yourself to imagine their touch as you masturbate to the edge, whether through a hands free orgasm or direct stimulation. HFO Audio really works, and it's like having a very intense sexual experience with your partner when it's done well.
Diving deeper into interactive audio experiences
When sex is fully virtualized and driven by A.I., we will enter into these specialized programs where they are either composed for us in advance, or that they are directly responding to our input. These programs will become the ultimate game, why kill a bunch of other guys in a shooter when we can feel the infinite love with a women all night long? We may even grow tired of our own imaginations and still desire to experience someone else's uniquely crafted sexual experience. These experiences may become even more valuable to us then any other sexual experience ever made before or any lover we've had. I have a vision to work on building such a game here at HFOAudio.com to further extend the possibilities of interactivity in erotic audio.
In addition to simpler games, I may even embrace our future and use A.I. and develop machine learning algorithms that target specific goals that allow the player to feel even better in their interactive erotic HFO audio experience. I could move away from fixed performances and include randomness and then measure the responses to new variations. This could improve the quality of the experience automatically while still including surprising variations to the triggers and phrases. I'm sure the future's A.I. sexbots will do the same in real-time. We could even personalize the experience and only train the machine to match your response.